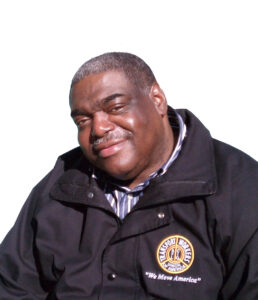 Barry Roberts, a retired Bus Operator and veteran union officer who has served in key roles for both TWU Local 100 and the TWU International union, has joined the Retirees Association leadership team as Retirees Association Manager.  He will work with Retirees Association Director James Manzella in membership growth campaigns and all Association administrative duties.
Barry began his transit career in 1989, as a MABSTOA Bus Operator.  He worked in both the Bronx and Manhattan Divisions.  He was a student of the union's voluminous contract with the MTA, coupled with a keen desire to help fellow Local 100 members. 
In 1998, Roberts teamed with the late Greg Davis, the respected Chair of Manhattanville Depot, and was elected to his first union post as Depot Vice Chair.  
Over the next decade, he climbed the union ladder as Manhattan Division Chair, Staff Representative for MABSTOA Division 1, Division Vice President, and Local 100 Administrative Vice President.
In 2010, the TWU International appointed him as a Training Instructor, with the responsibilty to run educational programs for new Officers and Shop Stewards from TWU Locals across the country covering workers in the mass transit, rail and airline industries.
Barry also served three terms as an elected member of the TWU International Executive Board. 
Prior to retirement, he was a Training Instructor and Superintendent of the Zerega Training Center for NYCT.
He is a long time active member of the Society of African American Transit Employees (SAATE) and served as its President for two terms.  He is currently SAATE's Business Manager.
More recently, Barry served as Executive Assistant to the Local 100 President, and Director of Training & Education for new members, officers and stewards, where he emphasizes, among other things, the vital importance of supporting the Retirees Association.
He is a lifelong New Yorker and attended Charles Evans Hughes Highschool in Chelsea.