An overflow crowd of Retirees Association members packed a ballroom of the Marriott Hotel in downtown Brooklyn Friday Oct. 6, 2023 to celebrate the Association's 50th Anniversary and to find out information on changes to their health benefits as a result of the recently ratified TWU Local 100 contract with the MTA.  The room was set up for 400, but hotel staff had to bring in additional chairs to accommodate everyone in attendance.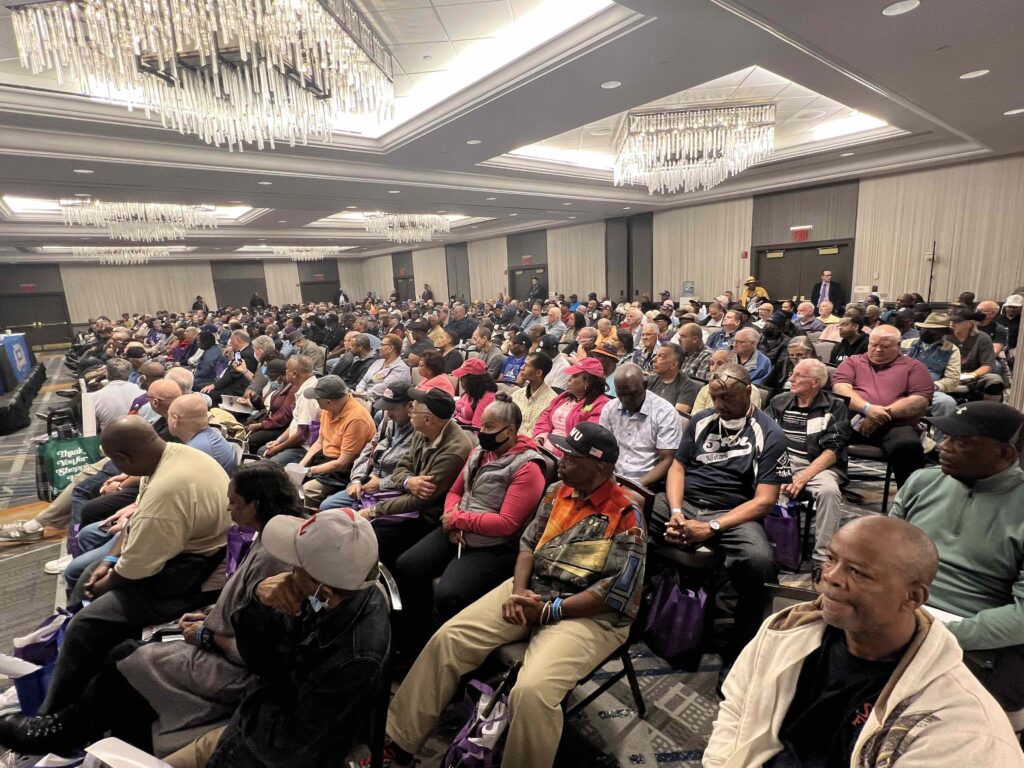 The meeting kicked off at 10:30am, but members began flowing into the hotel before 9:00am to register for the event and to pick up packets of information provided by Aetna, the carrier for the retiree's health plan options, and other vendors who provide services to Local 100 retirees.
In his opening remarks, Association Director James Manzella said that the main purpose of the meeting "is to answer your questions concerning our health coverage." He stated that "there's been a lot of information going around on the internet about changes to the coverage that is a little misleading. So today we hope to clear that up as we are rapidly approaching the open enrollment period."
Sabrina DeGuzman Simmons, senior account director from Aetna, gave an informative power point presentation on the options and changes to the plans. Retirees handed in their written questions, which were gathered up by Aetna representatives, and fully answered from the dais.
Everyone in attendance received a printed version of the power point presentation.
Director Manzella said, after the meeting, said "I feel confident that everyone's questions and concerns about their health coverage was fully answered today. We have a plan that provides excellent coverage. The contract didn't change that, and in some cases improved upon it."
Local 100 President Richard Davis, whose father is a retiree out of Gleason Depot, was on hand to address retirees' concerns as well.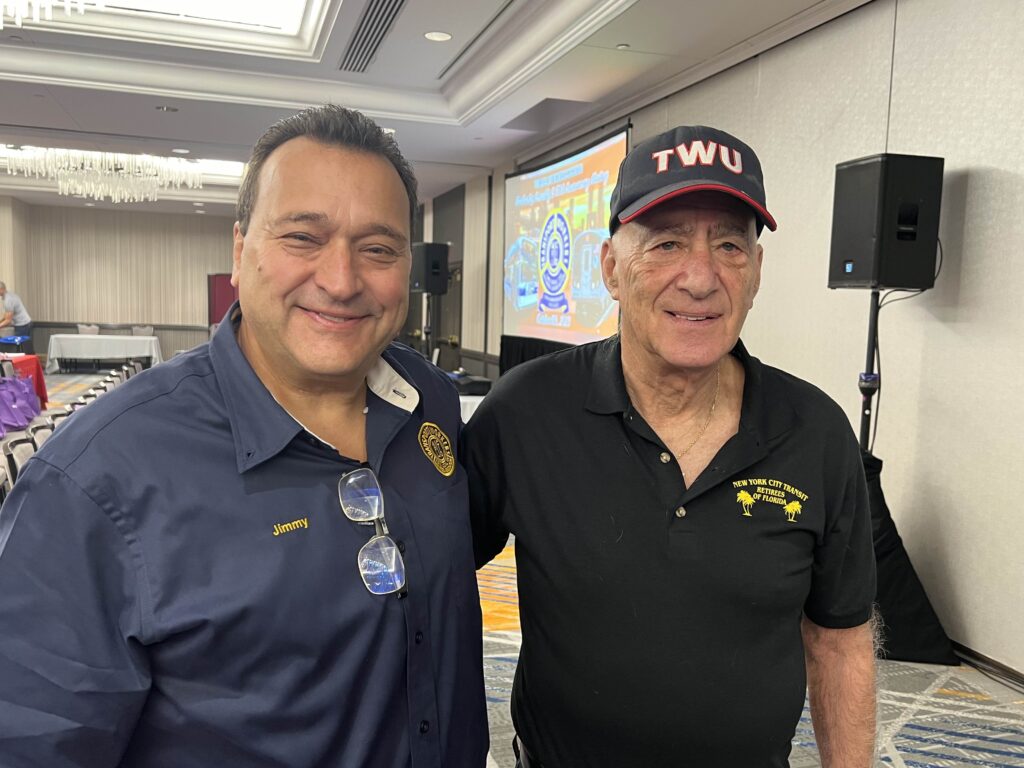 Director James Manzella with NYCT Retirees of Florida official Arnie Levine.
In addition to Local 100 President Davis, other speakers included NYS Comptroller Thomas DiNapoli, TWU International President John Samuelsen and Local 100 Recording Secretary LaTonya Crisp.
Others in attendance included Barry Roberts, the Association's manager; James Whalen, union trustee to the MaBSTOA Pension; Local 100 Secretary Treasurer John Chiarello; the Association's Executive Board, and representatives from the New York City Transit Retirees of Florida, including Ed Richardson and Arnie Levine. The Association's staff, including Shalena Lindsey, Victoria Gross and Carolyn Surian, handled registration and preparation for the meeting.
The Association debuted a brief video about the association to mark its 50th Anniversary.